Tag Archives: elevated working platforms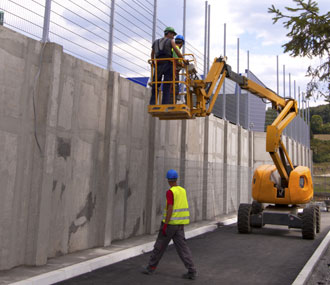 Courtesy: safetywerx
Mobile elevated work platforms have now become both a necessity as well as a source of ease for the construction workers at the site. There are different types of mobile elevated work platforms to choose from depending on the work they are required for. Below is a list of some of these types for more information.
1. Push around vertical platforms
Push around vertical platforms or PAVs, often also known as personnel lifts, are basically a more compact or smaller version of mobile vertical lifts. They are lightweight and come with a scissor operation, making it easier to use them in smaller warehouse or factory spaces instead of ladders. Moreover, they can also be easily moved between doorways and aisles, making them a more mobile equipment to use at work.
2. Scissor lifts
One will find them similar to PAVs, however they are a bit larger and can be used for a variety of purposes both indoors and outdoors. They, however, will not be suitable for narrower areas except if the model you have is less in width. You can also find two different versions: rough terrain and those having double extending decks.
3. Truck mounted access lifts
They are ideal if you are working on multi locations and want to constantly and quickly travel from one site to another. It can reach great heights and is ideal for outdoor, even high maintenance, use.
There are several other types of mobile elevated working platforms, in addition to the ones mentioned above, for one to explore.